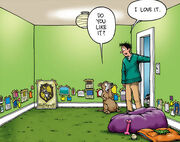 Satchel's Room
is where
Satchel
sleeps and spends his time. He often is depicted as sleeping in a beanbag chair. A hole was briefly knocked in here by
Bucky
's architect,
Stank Lloyd Wrong
in an attempt to expand
Bucky's closet
. This is where Satchel keeps all of his possessions. Satchel's Room is next door to Bucky's closet. The
ferret flap
has also been put in Satchel's room so Satchel and Fungo can hang out together occasionally.
Ad blocker interference detected!
Wikia is a free-to-use site that makes money from advertising. We have a modified experience for viewers using ad blockers

Wikia is not accessible if you've made further modifications. Remove the custom ad blocker rule(s) and the page will load as expected.